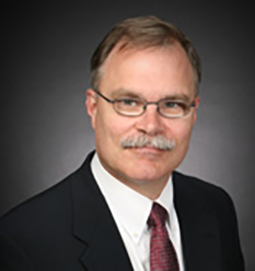 Curtis B. Herbert, Ph.D. P.A.
Partner, Patent Attorney
herbert@cfd-ip.com
(612) 315-4116

Minneapolis Office
33 South Sixth Street, Suite 3950
Minneapolis, MN 55402
Education
Texas A&M, B.S., Petroleum Engineering (1985)
Louisiana State University, M.S., Chemical Engineering
University of Texas, Austin, Ph.D., Chemical Engineering (1996)
William Mitchell College of Law, J.D. (2001)
Bar Admissions
Supreme Court of Minnesota
U.S. Patent and Trademark Office
Bio
Curtis B. Herbert, Ph.D. P.A. is a patent attorney experienced in representing businesses from start-up to successful exit. He works with serial entrepreneurs engaged in high technology, high growth companies that need IP and need to navigate through IP owned by others.
Curtis received his B.S. from Texas A&M in 1985, majoring in Petroleum Engineering. He worked for Exxon USA in Corpus Christi, Texas, where he provided engineering support and analysis for oil and gas well drilling equipment and processes on the King Ranch and other locations in South Texas. He then moved to the offshore division and worked out of New Orleans in the offshore drilling division.
Curtis left Exxon to get an advanced engineering degree. He spent two semesters at Louisiana State University to acquire the credits required for Chemical Engineering and attended the University of Texas at Austin, where he received his Ph.D. in Chemical Engineering in 1996, with Jeffrey Hubbell as advisor. His research was directed to biomaterials, tissue engineering, and neuroscience. This work provided training in scientific disciplines that included the life sciences, cell biology, biotechnology, polymer chemistry, surface chemistry, coatings, hydrogels, drug delivery, biopolymers, and adhesives. His post-doctoral work was performed at the University of Minnesota department of Chemical Engineering and Materials Science.
Curtis attended William Mitchell College of Law in St. Paul, MN, where he studied patent law and graduated in 2001. His honors and awards include giving the commencement speech for his graduating law class, the William Mitchell College Presidential Scholarship for Academic Excellence, 1998 – 2001; the Computer-Assisted Legal Institute (CALI) award, Fall 1999; William Mitchell College of Law Dean's List; University of Texas Chemical Engineering Department Competitive Fellowship, 1995; and National Merit Scholarship, 1981-1985. He is a member of the Minnesota Intellectual Property Law Association.
Curtis began working as a patent agent while attending law school, and took a full-time position as an attorney at Patterson, Thuente, Christensen, Pedersen, P.A. in 2001. He has represented many start-up or high-technology.
Curtis left the Patterson law firm in 2006 with Peter to establish Dardi & Herbert, PLLC.  Dardi & Herbert, PLLC merged with Christensen Fonder P.A. in 2017 to form Christensen, Fonder, Dardi, & Herbert P.A., which uses the trademark Christensen Fonder Dardi. Curtis's clients include high technology companies and other companies that use IP as part of a high growth, high valuation strategy. We are excited to assist our clients in creating the future.